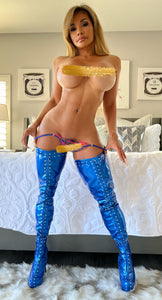 💋💋💋 ... Connie's LIMITED EXCLUSIVE ***UNCENSORED*** 16" x 24" Canvas Print "Innocent 🙏😇🙏 Island Girl 🥂"* Signed By Me to You 💋
Regular price $349.95 Sale
Connie's LIMITED SUPPLY EXCLUSIVE

PRE ORDER ... Ships in 1 week from purchase Date till Its SOLD OUT 
***UNCENSORED***
16" x 24" Canvas Print  "Innocent 🙏😇🙏 Island Girl 🥂"* Signed By Me to You 💋
Connie Elizabeth 
"Innocent 🙏😇🙏 Island Girl 🥂" 
Canvas Print WITHOUT the Gold Stripe..😈 then signed by me to You 💋💋💋
Note this will be a personally signed Canvas Print... By Me to You ... or whomever you wish it to go to ... 😘😘😘
The Canvas Print you will be Getting is UNCENSORED without the Gold stripe...😘 
Send me a Message ... AT 👉  ConniesFashionVault@protnmail.com and tell me what you would like me to sign on your Canvas Print ...
Email me at:   conniesfashionvault@protonmail.com 

If you forget to leave a Personalized message for me to sign... I will just sign it to the person who bought the Canvas Print...

xoxox Connie 

Email me if you have any questions!!
Email me at: See the contact page.